The UKBJJA is launching a major campaign called "Unstoppable Girl" to get more women involved in the martial art of Brazilian Jiu Jitsu. Meet female BJJ athlete, mother and Unstoppable Girl, Thaice Pereira.
"My name is Thaice, I am 31 years old, originally from Brazil. I am a white belt from IPPON, Basingstoke. I started Jiu Jitsu 18 months ago after years of fighting severe depression, an eating disorder and health issues. My husband and kids were already part of the Jiu Jitsu family, and spending the cold nights alone at home while they trained just made things worse. I made the hard, tough decision to give it at try and that decision happened to be one of the best of my life. The step that changed everything. I am now a happy #unstopeablegirl, depression and medication. Jiujitsu saved my life!" Thaice has also lost 15kg doing BJJ and encourages everyone, whatever shape or size to try BJJ. She says her family  "train together, we compete together and we are making a collection of medals together!"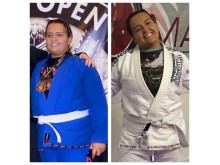 The launch coincides with the release of the UKBJJA's short film Jiu Jitsu Woman – http://bit.ly/1RILFEf."Unstoppable Girl" involves national women only training events, social media, an education and fundraising campaign to get girls and women involved in the sport. A number of "Unstoppable Girl" Ambassadors; based throughout the UK. Each event will offer the opportunity for individuals to talk to existing practitioners about the benefits of BJJ, how it has helped them, and what it's like to train and be part of the BJJ family. You can follow the campaign and check out what's happening at www.ukbjja.org, follow us on Facebook and Twitter @ukbjja #unstoppablegirl.